Layeroffrost.com Does Love!
Ah...ah...AHH!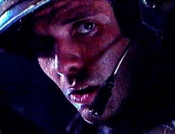 Commentary by Reno

Well, Valentines Day 2001 was the day of love for me. I don't know about anyone else, but love is bursting out of the internet like a proverbial love emitting tangle of wires and optics. No! I'm serious! Don't go away! Love! Sex! Brittany Spears naked! Sado-Masochism Midget Fetish! There, got you with that last one. Anyway, I posted this little thing on one of those dating sites...heh...heh...See what responses I got. (Oh, and if you throw that "you're copying Kthor from portalofevil.com"...well...it's kinda different what I'm doing :) )
Age: 19

Heritage: Caucasian (white)

Height: Average

Weight: 126 lbs

I don't smoke or drink

Occupation: Student (Sociology)

(Fort Collins, Colorado, United-States)

Hello, I'm a sensitive woman looking for a nice man who still believes in chivalry. I also like to get a little naughty and watch midget pornography. I have been searching my whole life for a person who can have intelligent conversations about philosophy and ergonomics, not just use me for my body. My measurements are 36C-24-36.
Now, as for the responses. All of these were plain, unformatted text messages. So, when you see bold, it's a place that I personally found...a BIT strange...and wanted to make sure you saw and wept over. No addresses will be given to protect the innocent...even if they are a little scary.
From: Lars -address withheld-
To: -withheld-
Subject: Oh...my...GOD
Hello, I don't know your name because (internet site, withheld) doesn't let you list them, but I think I have really found the one. I am also a sociology major at the university of Michigan...and I don't mind travelling. Midgets are an...interesting fetish, but I have a foot fetish so I'm pretty open. Have you read Auldous Huxley's "Brave New World?" If not, it's very interesting.
My personal stats are this...Height=6 foot, Weight=147, Blue Eyes, Black hair (dyed), and I like bands like Dave Matthews and NoFX.
Well, I hope you get bvack (sic) to me, you are the most beautiful women (sic) in the world.
Hmm...a foot fetish eh? Well, Brena (what I named my creation, mu ha ha!), didn't really like that. Okay, this guy is six feet tall...but only weighs 147 pounds? And his hair is dyed black? Let me guess...angsty young adult in freshman year at college...whoo. Oh, didn't he notice that "Brena" doesn't want to be used for her body? Brena says "NEXT!"
From: John D. -address withheld-
To: -withheld-
Subject: hey...
Um...I'm not too keen on these internt (sic) dating services, but well...you seem like a truly nice woman. It's great when someone so beautiful likes to study religion. Scientology is not really my thing, but to each their own right? :) Anyway, I don't expect you to write me back, but I just wanted to let you know that if I could I would marry you. Take care...
...I felt really bad when I saw this one...really bad. I mean, this guy isn't really a bad guy that deserves to be put on this page with the rest of these people-I-will-try-desperately-to-avoid-for-the-rest-of-my-life...but...Scientology? L. Ron Hubbord Scientology? BAH! Brena got insulted by that. Not to mention the eerie "I would marry you" thingy at the near end. Now, I know that it's mean to deceive, and this guy means well...but...ah, forget it. I'm a prick.
From: Carin -address withheld-
To: -withheld-
Subject: Lesbian?
Hello,
I am sending you an email in regards to your ad on (internet site, withheld). I have always been looking for my intellectual second half, and you are very attractive too. I don't know, but I have this talent...I can tell when someone has women as their sexual preference. If not, then you can discontinue reading this email, but, if you do...I know every way to please, and I'd love to "Pick your lobes" sometime. ;-)
Well, if you want to keep communicating, please send me an email back. Here's my stats: 34-25-36, 6'3", Black hiar (sic), brown eyes, long tounge
Sincerely,
Carin
What do we have here...a monsterously tall, black haired lesbian with a long tounge. Now, damn, if she wasn't right on the whole sexual preference thing, but I think she thought a woman posted that ad (I wonder why?), a woman who was, by definition of her power, also lesbian. A major turn off for Brena was the comment about "intellectual other half." I don't know how much Brena's intellect could have helped with someone that admittedly has none at all. But damn if she wanted to "pick your (Brena's) lobes." Wow, if I talked like that to a chick, I'd be getting a lot more girlfriends! Er...maybe not.
From: Your Best Friend (hacked, couldn't tell)
To: -withheld-
Subject: Here's the information you asked about!
Hello Shelly! Long time no see!
My friends and I got a little horny one day and took a bunch of pictures, hehe! I bet you want to see them don't you? *giggle* Well, since you're my best friend, here is the site (withheld).
I hope you like the pictures of us, I know you have a secret crush on me dear *wink*


If I sent this to the wrong person, I'm sorry, I have a lot of people on my email list!




remove your address here
How many days did I have this new hotmail account activated? 3-4 days? Wow, those porn advertisers are FAST! Brena was quite excited to go to this page of her "friends," but then Brena found out she had to pay. DAMN!
Well, I hope faith in man was not broken here on this site. I'm sure these people mean no harm, but well, I'm just that mean. Yeah, like with that hatemail I answered, yeah. Totally, in your face, don't be frontin', wiggie wiggie, vicious malice right there. Just another warning to all you wanna-bes out there man, don't mess with the best, or win like the rest. BAM!
And just so I have another sentance that finishes in a rhyme, this article is material for the garbage CAN!