Required "NIN is God" Fanpage
NiN3 In(h NaIlz IZZ GOD!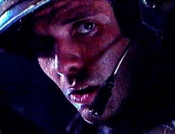 Commentary by Reno


I get emails and entries to my guestbook insulting me for how I "say nin is God" and "you are in germany fuul!" So I asked myself, "have I really said Nine Inch Nails or even Trent Reznor were God on my website?" and after sitting down for two seconds I decided no. But that brought me to the most disturbing second insult, "you are in gremany fuul!" That means alcohol is cheap, internet is expensive, and every buys porn, I don't really see how anyone could have any qualms about that. Anyway, I decided to give these persons some material to continue bashing me with, below is my brand new fan page for Germany and how Nine Inch Nails is God.

YO. I USED TA LISTN TO CRAPPY MUSIK LIKE OUTKAST AND LIMP BUSCUIT, BUT DENN I HERD OF NIN3 INCH NAILZ AND MAN WUZ IT HARCORE SHIT. SO I BUYED SOME CDS BITCH. THE CDS ROCKED HARD CORE!

NIN IZ GOD!

HERE IZ SUM HISTROY ON NIN. TRENT RESNOR WAS BORN IN A TOWN. TRENT RESONR WAS A HaXx0R! THEN HE MADE MUSICK AND GOT LOTS OF MONEYS. I LIVE IN GERMENY BECUz I IZ HARDCORR! r00l! INGERMENY I DRINK ALCOHALLIC BEVARAGES. ALCOHALL IS GUD!

NIN IZ THE ONLY GUD BAND! ANY1 WHO LICKS OTHER BANDZ BLOWZ!
THAT IZ TRNET RESNOR! THRENT RESNOR IZ NINE INCH NAILZ! ROCK! FUCKYOU!
Interactive:
Take an amazing journey through a life that could or could not have any consequences. No Consequence Life is the adventure for YOU!
Articles:
Dwayne hasn't really submitted anything new in a while, what the hell is wrong with him? Voice your complaints!
Special:
Phalanx and Maverick both got some pretty weird Birthday Presents, but layeroffrost.com assures you, they ARE funny...at least, what WE think is funny...