You got that right babes! Now's your chance to have THE MAN!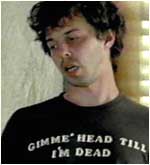 Commentary by Reno

Deciding to post a little something before his grand grand return in §22.as.5,//)1I8 crap, cat sat on the computer, I have decided to give you, the layeroffrost.com viewing community the BEST offer you could ask for! Me! Yeah, I'm conceited you say? Well screw you! I'm not! (he says, fixing his hair -cat) Here we go!
Age: 17

Heritage: Caucasian (white)

Height: 6'

Weight: 24 lbs

I don't smoke or drink

Occupation: Student (Computers)

Interests: Golf, intelligent (and attractive) women, computers, Hockey, Football, my car, you *wink*

(SmallTown, Wisconsin, USA)

Hello, I am a grossly underweight computer nerd that likes porn. Give me a buzz. 1-555-867-5309. Oh, I like Golf too.
Please send responses immediately!





p.s. I don't weight 24 pounds, and porn is bad...for girlfriends to catch you with. Please God, don't take this seriously, and if you do, then add ",19 inch male sex organ" after that 24 lbs.
Interactive:
Take an amazing journey through a life that could or could not have any consequences. No Consequence Life is the adventure for YOU!
Articles:
Dwayne hasn't really submitted anything new in a while, what the hell is wrong with him? Voice your complaints!
Special:
Phalanx and Maverick both got some pretty weird Birthday Presents, but layeroffrost.com assures you, they ARE funny...at least, what WE think is funny...