Everyone else does it, why can't I do it worse?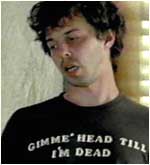 Commentary by Reno


You've seen this crap in Maxim, or seanbaby.com, or basically in any way shape or form on any type of medium. Well, it's time for someone to reinvent the norm and post something completely stupid, just the job for CAPTION MAN!





Number 1) In reference to the Jewish or Muslim soldiers in the picture to the left: "Who else is sad that it is not legal to be sad in our army?" "Me...sigh" "Ha, I arrest you! Bitch"






Number 2) In reference to the lesbians (shit, female basketball players): "Yay! We won the championship by a hair! Or many hairs!"


Number 2 appendix A) In reference to the reference of the last caption (emulating a bad translation of a foreign comedy site): "These are what we won by! Good thing I didn't shave tomorrow!"










Number 3) In reference to the Arabian man wearing a Santa Claus hat: "Excuse me, could you try to be slightly more politically correct Mr. Abdullah?" "Sure thing! I am now Santa, infidel."












Interactive:
Take an amazing journey through a life that could or could not have any consequences. No Consequence Life is the adventure for YOU!
Articles:
Dwayne hasn't really submitted anything new in a while, what the hell is wrong with him? Voice your complaints!
Special:
Phalanx and Maverick both got some pretty weird Birthday Presents, but layeroffrost.com assures you, they ARE funny...at least, what WE think is funny...